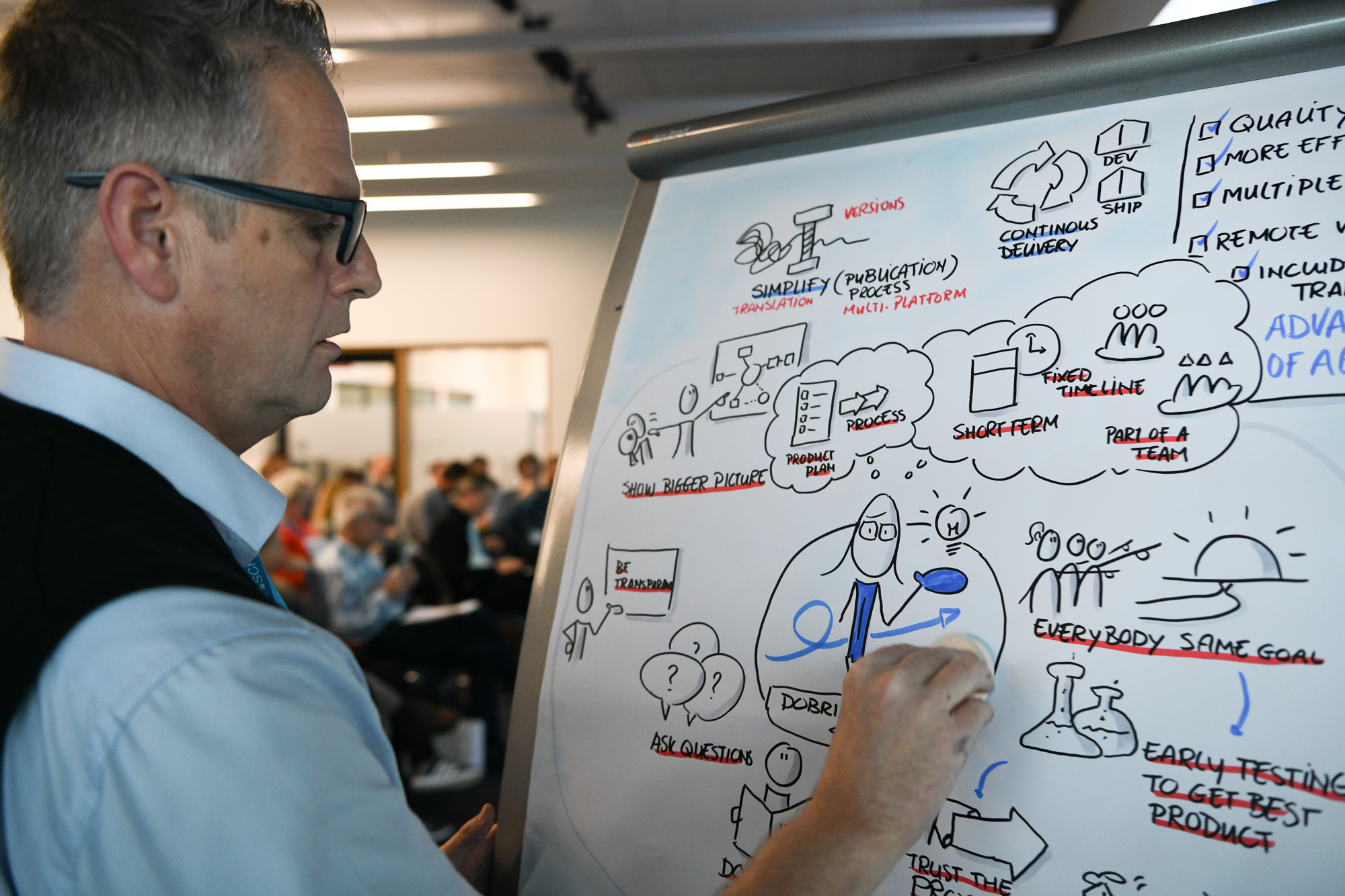 Graphic Recording:

visualize and clarify

Are you looking for a creative way to keep everyone engaged during your meeting? A way to make complex ideas clear and eliminate confusion.  Use the power of visual language for group collaboration. Digital or on a Graphic Wall.

Graphic recording is extremely powerful for:

• Brainstorming

• Strategic visioning & roadmap

• Project planning

• Team building

• Focus groups
GRAPHIC RECORDING Turns

information

into understanding

A graphic recorder is a vital partner to the facilitator of the meeting.

The benefits of graphic recording:
Graphic recording supports the facilitator by making ideas visible so the group can get on the same page.
The graphic recorder listens to the conversation during report outs, brainstorming, focus groups and other group discussions.  Participants can actually see their input being captured and visualized with illustrations and text.

Ideas are clarified and visible to everyone in the room.  

Graphic recording creates a "visual memory" for attendees and it can increase retention up to 60%.
It's easy for participants and attendees to get distracted, for example after lunch or by using their phones. Having a graphic recorder gives participants a way to bring their attention back to the discussion, catch up and stay focused.  It's also great to inform people who did not attend the meeting or conference.
As soon as participants enter the room, they realize this is no ordinary meeting or conference.  Big paper

 

or big screen means BIG ideas.  Graphic recording sets the stage for conversation and creativity.
 Graphic Recording from London to Berlin, from Paris to Dubai
The Visual Communication Company works with innovative companies spread over 4 continents. We support leadership teams, facilitators and consultants for the best results. With Graphic Recording on a wall of paper or digital on a big screen we create the big picture with and for you. 
Graphic recording in Three languages
As Graphic Recorders we support you in at least 3 languages. English, German and Dutch. In case you need other languages? We have an extended network of Graphic Recorders all over the world that we can connect. We are also part of the managing team of the community European Visual Practioners.
DIGITAL OR PAPER/ ONLINE OR ON LOCATION
We do graphic recording in the way you like it most and the way that it has the most impact. Since travelling is restricted Online Graphic Recording is quickly finding its way to the market.Eachway of working has it own advantages. Let's talk together what would be the best way to do the Graphic Recording for your event.